Research Update with PhD Candidate, Dylan McKevitt
Probing the intrusive-subvolcanic-volcanic plumbing systems of magmatic Ni-Cu-PGE deposits
The early Proterozoic Cape Smith fold and thrust belt in Nunavik, northern Québec hosts multiple styles of magmatic Ni-Cu-(PGE) sulfide mineralization at multiple levels in the intrusive-subvolcanic-volcanic plumbing system. These include Cu-Ni-PGE Expo and Allamaq deposits along the sides and keels of blade-shaped ultramafic dikes (mined by Canadian Royalties Inc.), PGE-Cu-Ni Delta prospects within differentiated subvolcanic ultramafic-mafic sills, and world-class Ni-Cu-PGE Raglan deposits hosted by extrusive and invasive ultramafic lava channels (mined by Glencore Canada Corp.). This mineralized magmatic plumbing system and its enclosing volcano-sedimentary sequence is only weakly-metamorphosed and very well-exposed across the sub-arctic tundra.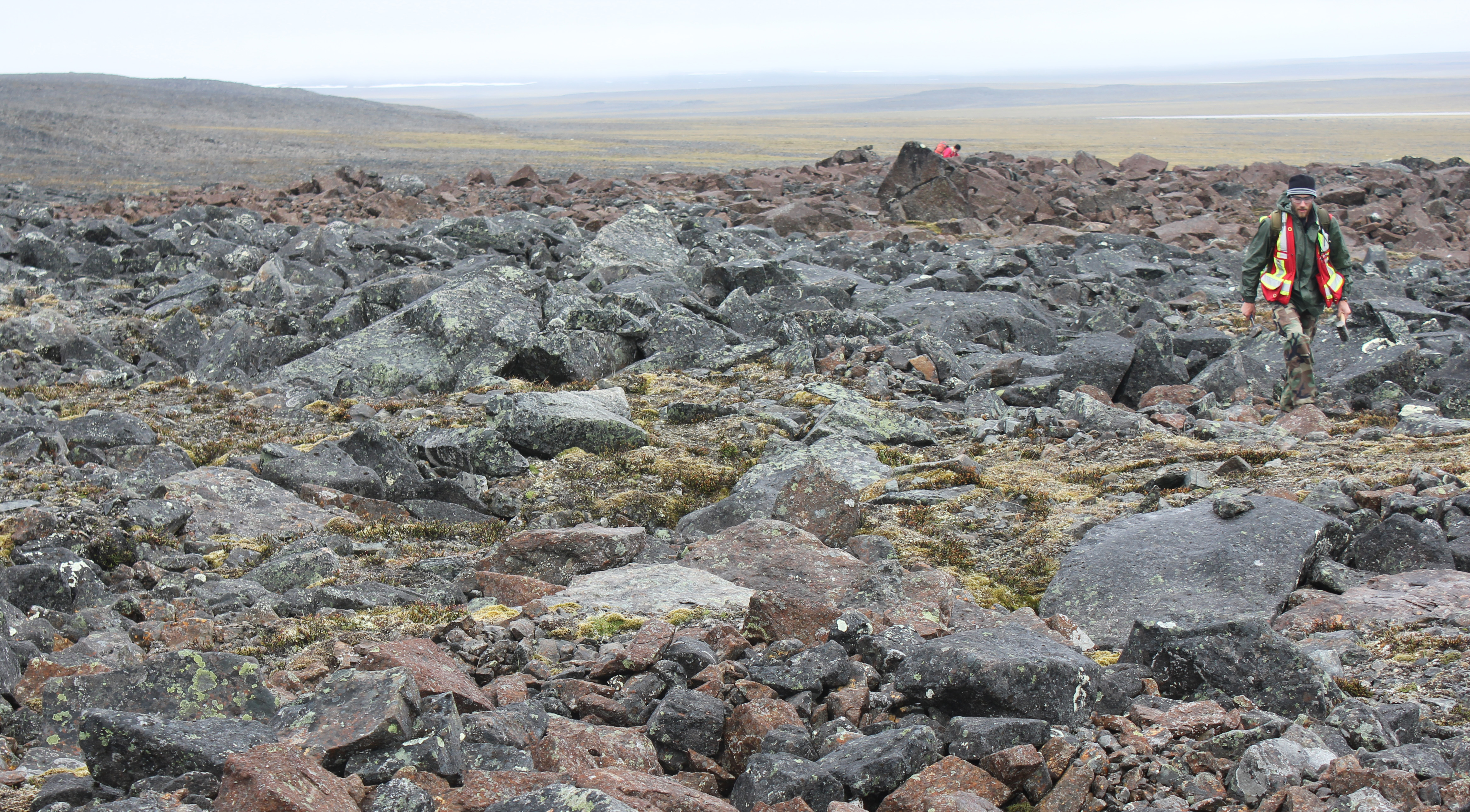 Photo Caption: Traversing across a field of felsenmeer (frost-heaved boulders), comprising olivine pyroxenite (background) of a poorly-differentiated ultramafic dike that intruded tholeiitic basalt (foreground).
 
Dylan McKevitt's PhD research, under the guidance of Drs. Michael Lesher and Michel Houlé, seeks to take advantage of this special setting to understand the spatial-temporal-geochemical evolution of the magmatic system. To achieve this, he is combining new and existing field mapping, petrographic analyses, geochronology, whole-rock geochemistry, and mineral analyses in these areas with an extensive database of regional geochemistry, geophysics, and geological mapping. Two field seasons (summer 2017 and summer 2018) have been completed and a third will be completed this summer (July-August 2019). This will be followed by geochemical and fluid dynamic modelling.
The results will provide insights into trans-crustal scale magmatism and processes controlling differential metal endowment within the plumbing system, will aid ongoing mineral exploration along the Cape Smith Belt, and may be applied to other Proterozoic volcanic belts and Archean greenstone belts worldwide. This research is made possible by funding through the CFREF and FedNor-funded Metal Earth program, the GSC TGI5 program, and considerable in-kind support from Glencore Canada Corp. (Mine Raglan) and Canadian Royalties Inc. (Nunavik Nickel Project, Jilien Jien Nickel Industry Co., Ltd.).