MERC Collaborates on BGR Marine Mineral Exploration
Metal Earth participates in mineral exploration research on the seafloor as part of the INDEX program with Germany's Federal Institute for Geosciences and Natural Resources (BGR).
Research update with Marina Schofield (Laurentian University) and Uli Schwarz-Schampera (BGR).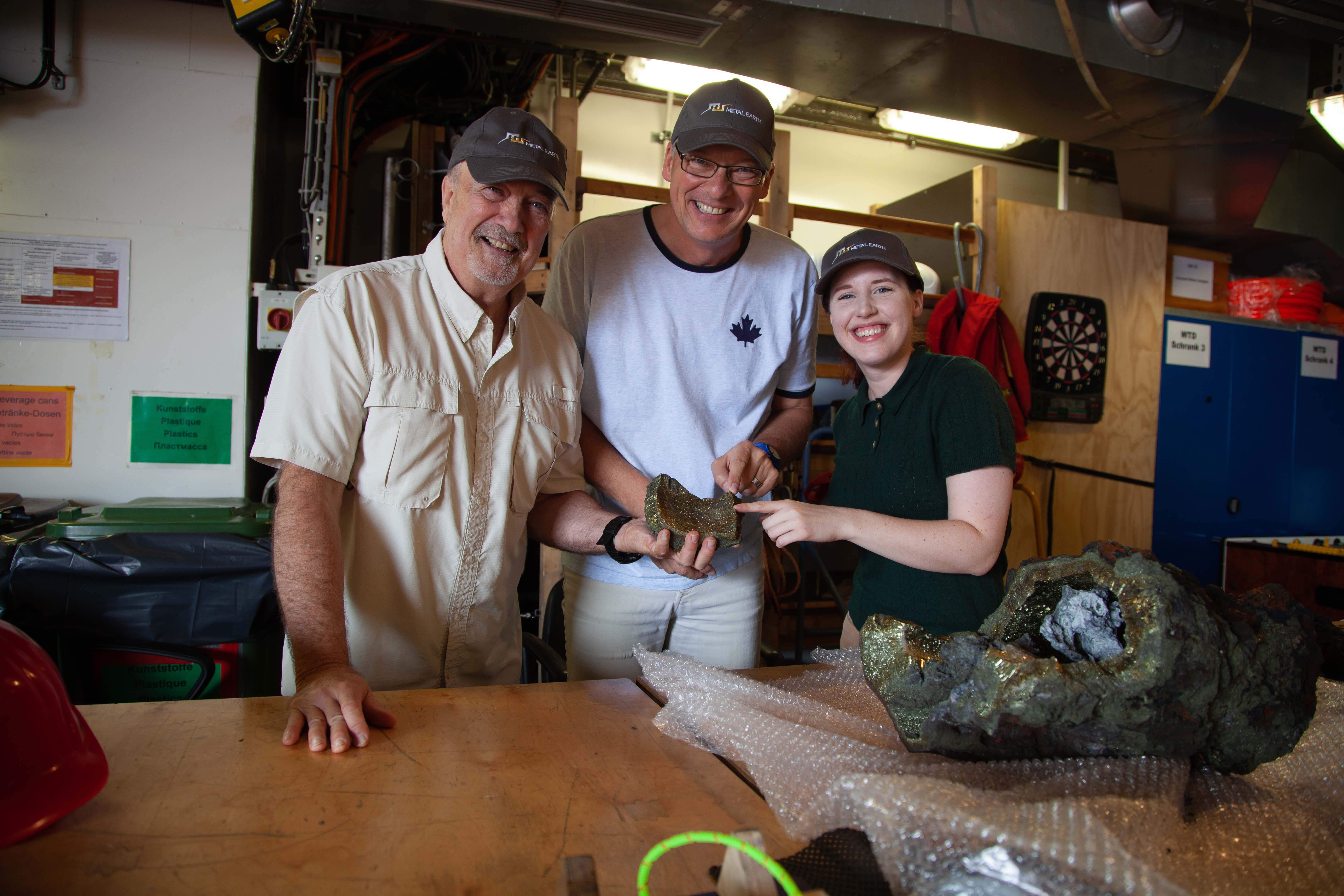 Image caption: Harold Gibson (Professor, Laurentian University), Uli Schwarz-Schampera (BGR), and Marina Schofield (PhD candidate, Laurentian University), looking at Cu-rich massive sulfide sample from the sulfide chimney they just collected from the Edmond site (a larger piece of the chimney rests on the table in front of them).
Dr. Harold Gibson, Founding Director of Metal Earth (left), and Marina Schofield, Laurentian University PhD candidate (right) participated in a 47-day research cruise as part of the INDEX program with Germany's Federal Institute for Geosciences and Natural Resources (BGR) from October 31st – December 17th, 2019. The INDEX program consists of exploration on the German government claims along the mid-ocean ridge in the southwestern Indian Ocean. The license area is located southeast of Madagascar, over an area of approximately 10 000 km2.
This was a multidisciplinary research cruise with the overall goal of outlining and assessing new potential ore deposits in conjunction with extensive base line studies for the sustainable protection of the marine environment. The science crew consisted of 39 people from a range of disciplines (biology, biogeochemistry, geochemistry, geophysics, engineering, structural geology, volcanology and petrology).
Dr. Harold Gibson has been an invited scientists for over five years on the INDEX program where he is responsible for producing detailed geological maps of the active hydorthermal vent sites. He works  closely with Uli Schwarz-Schampera, the lead on the BGR (Federal Institute for Geosciences and Natural Resources) marine mineral exploration research project. This past summer Uli accompanied Harold to visit graduate students and PDFs working on Metal Earth's transects at Geraldton Beardmore, Swayze and Noranda to gather more insight into VMS deposits on land prior to heading out on the cruise.
"There is a natural continuation of what Metal Earth does on land, extending to the sea floor. Both the greenstone belt and the ocean floor have similar VMS deposits. We see the processes that are currently going on the ocean floor, and then see the results of these processes on land, where mines are developed. So there is a close link between the two areas."

- Uli Schwarz-Schampera, BGR
The project runs from 2015-2030 with the end objective to find a mineable ore deposit. So far, they have 8 sites that all have reasonable perspective. "What we want to achieve from this project is to have a reasonable sized ore deposit in an area that we have really understood from an environmental and biological perspective. We want to be able to leave the area afterwards knowing that the environment can continue on for another 50-100 years in terms of biodiversity. I am confident we can achieve this from how far we have come so far." - Uli Schwarz-Schampera, BGR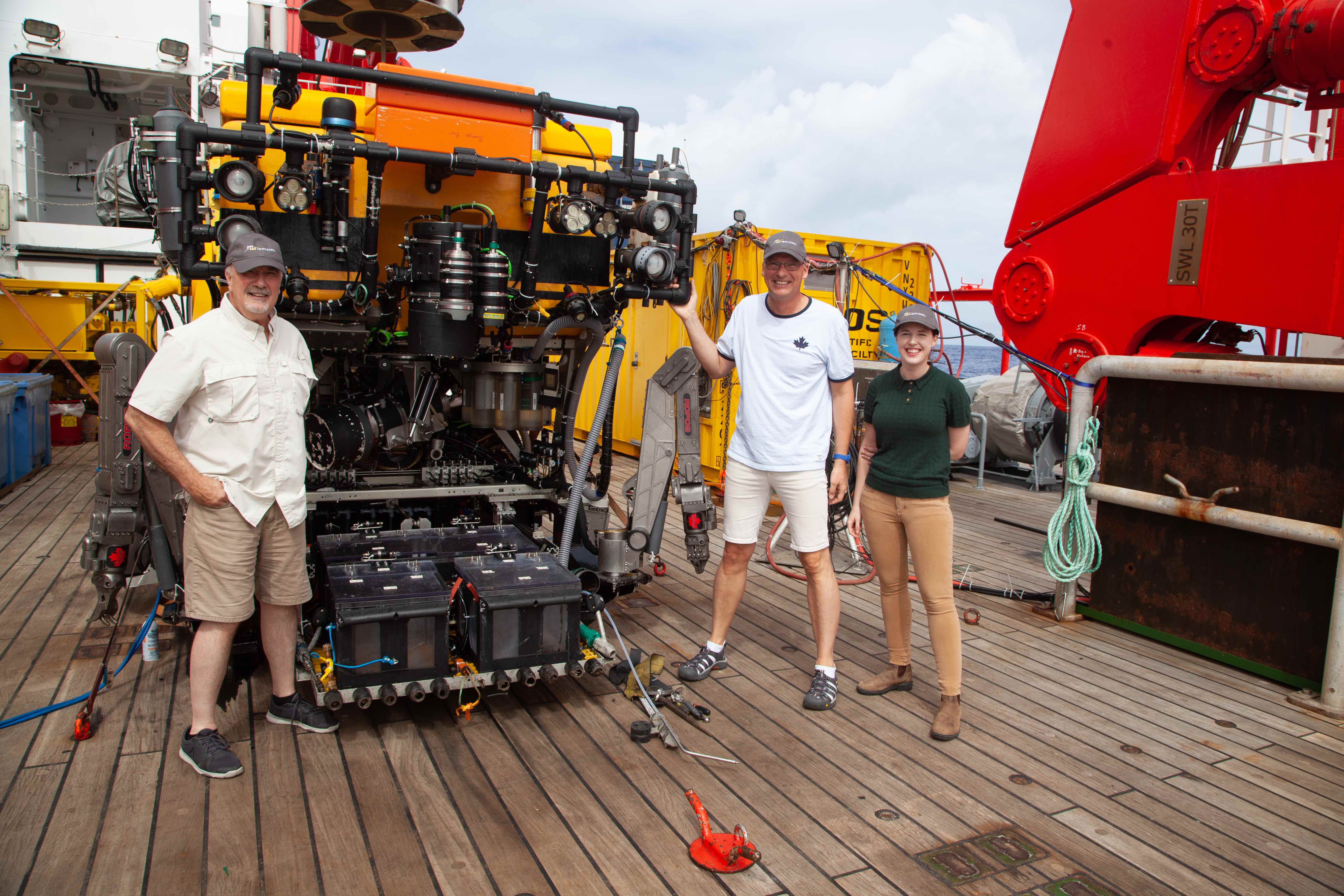 Image caption: Harold, Uli and Marina on the back deck of the Sonne and in front of the Canadian ROV (remotely operated vehicle), ROPOS (Remote operation platform for ocean research). The boxes at the front of ROPOS are for samples, and Uli is standing beside one of ROPO's arms used to collect samples etc. Note all the light sand cameras.
After 15 years, the German government would have the chance to do exploitation however, there are still many unknowns for mining on the seafloor. Through exploration efforts they are investigating how long it could take for a mineable ore deposit to form, how much is currently down there, and what are the resources required to mine on the sea floor. At this stage in the project, they are seeking involvement from mining companies to join the discussion to help solve some of these unknowns.
"The ocean floor might be the future metal supply. We don't know yet. Especially in Germany, where there are basically no deposits left on land. So far from what we have observed, we see big potential. The crust on the ocean floor is still young and forming. We have found native gold sitting on fresh rocks without any ore deposit formation. This native gold is not economic at all, but it is an indicator of the presence of sulfide minerals - an exploration tool for finding gold. It's incredible and has never been described so far." - Uli Schwarz-Schampera, BGR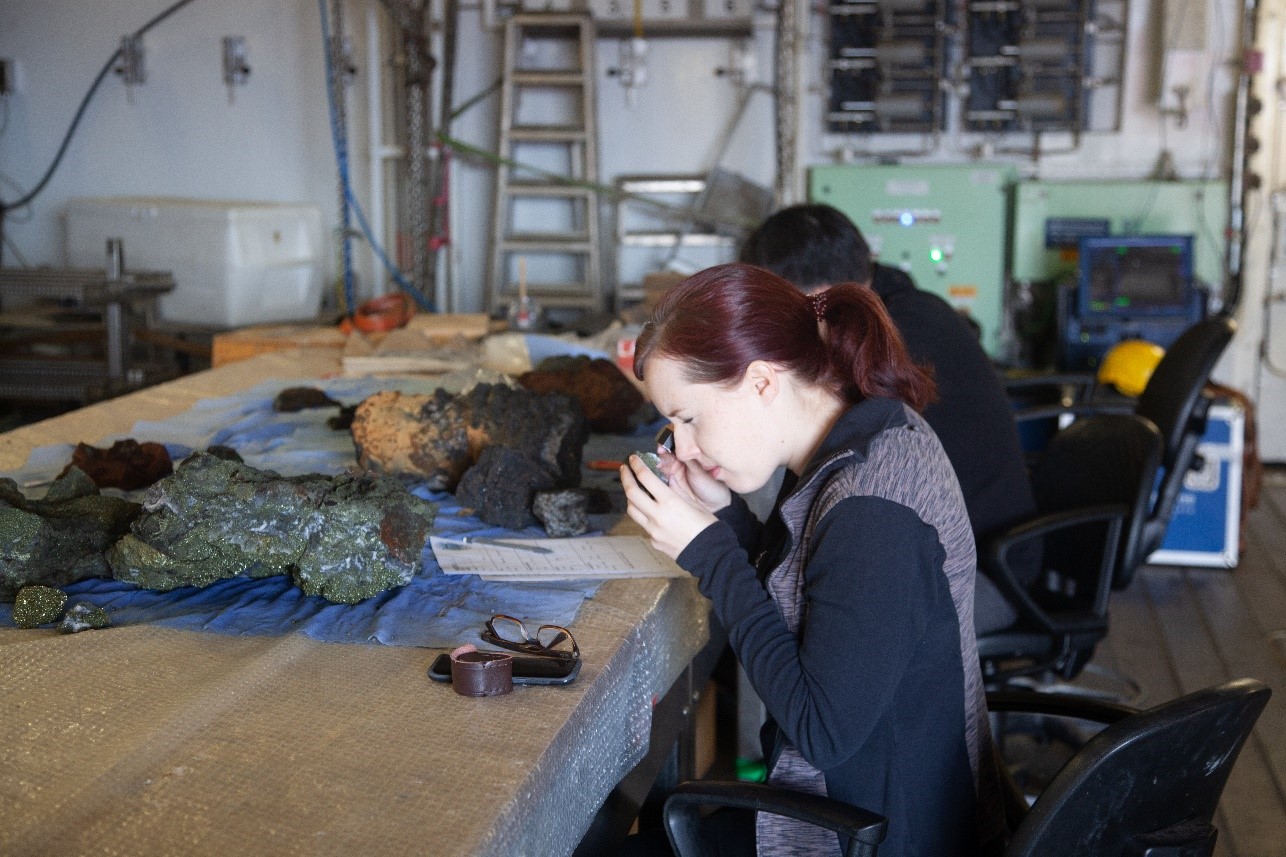 Image caption: Marina Schofield completing sample descriptions for sulfide samples collected during one of the ROV dives.
Inviting Metal Earth graduate students onto the cruise has provided Uli and the INDEX program with an opportunity to train young geoscientists and introduce them to marine geology and research techniques. Marina was the fourth Laurentian student over the last 5 years to participate on a cruise. Next year PhD candidate, Keaton Strongman will get a chance to participate as well. Marina Schofield speaks to the highlights of the cruise:
 "Through the use of a remotely operated vehicle (ROV) from a Canadian based company (ROPOS), we were able to see incredibly high definition videos and collect high resolution photographs of active black smokers, unique biology, fresh pillow volcanoes and fissures at water depths of approximately 3500m. We could measure temperatures and collect water samples from within the vent, and collect pieces of the chimneys themselves to bring up to the surface and analyze. The opportunity to see volcanogenic massive sulfide deposits in various stages of formation, in an area of the world that is relatively untouched and very few people get to see first hand, is truly an amazing and incomparable experience."

Marina Schofield, PhD candidate Laurentian University
How can we ensure mining companies are ready for seafloor mining?
Since the mining industry in Germany is decreasing, there is a need to build interest with International companies especially in North America. Prospective industry partners will have the opportunity to meet Uli at the global PDAC conference in Toronto this year, to discuss possible ways to get involved. Uli also encourages industry to attend the yearly symposium in Germany on ocean exploration.
"We are always looking to take collaborators out on the cruise to show them how we do it out in the field. We want to learn from their experiences and open up the conversation around the possibility of mining the seafloor. We are always seeking mining professionals to get involved in the discussion". - Uli Schwarz-Schampera, BGR
Learn more about BGR's marine resource exploration: 
https://www.bgr.bund.de/EN/Themen/MarineRohstoffforschung/marinerohstoffforschung_node_en.html;jsessionid=DDB22DDE5BB16803B2E5AB9D2F375784.1_cid321
Image caption: Control center for the ROV, engineers in the background are navigating the ROV. Geologists Marina and Sebastian are logging the data into the database, and taking high resolution photographs of interesting features.