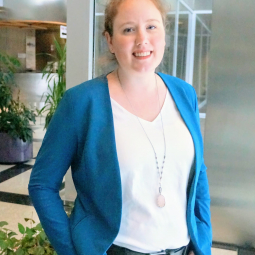 Rebecca (Becki) Montsion is a cotutelle PhD Candidate at Laurentian University's Mineral Exploration Research Center (MERC) and the University of Western Australia's Center for Exploration Targeting (CET) in Perth, Australia.
Her current research includes developing feature extraction techniques to gain new geological knowledge from legacy data such as geospatial compilations, structural databases, and geochemical analyses.
A comparative study in southern Abitibi Province of the Superior Craton, near Timmins, Ontario, and the western Wabigoon Province, near Dryden, Ontario, will be used to demonstrate new techniques and investigate factors controlling mineralization in Precambrian greenstone belts.
In recent years, Becki has received numerous scholarships and awards in recognition of her PhD research and contributions to mineral exploration, including:
Canadian Society of Exploration Geophysics Foundation award (2020)
NSERC Michael Smith Foreign Study grant (2020)
NSERC Post-Graduate Scholarship (2020-2023)
Canadian Federal Government's Queen Elizabeth II Graduate Scholarship in Science and Technology (2020)
Prospector and Developers Association of Canada (PDAC) Joan Bath Bursary for Advancement in the Mineral Industry (2019)
Young Mining Professionals (YMP) and Orefinder's Innovation in Mining Scholarship (2019)
Goodman School of Mines Fellowship (2018)
Rebecca has 8 years of experience with geological 3D modelling and geostatistical analyses.
In 2017, she completed a Master's of Science in Earth Science at the University of Ottawa, where she tested 3D geological modelling methods in regionally extensive and structurally complex settings. She worked as a research assistant for four years with the Geological Survey of Canada in their 3D Earth Imaging and Modelling group and as a geospatial specialist with MERC. In 2017 Rebecca and a team of young geoscientists also won the 2017 Frank Arnott Award Challenge in the 'experienced' category. Currently, Rebecca volunteers as a board member for Women in Geosciences Canada.