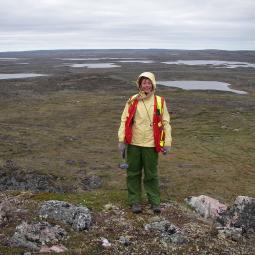 FROM: Saskatoon, Saskatchewan; GRADUATED FROM: University of Saskatchewan, Saskatoon, SK (BSc); University of Regina, Regina, SK (MSc); CURRENT RESEARCH: Geological Investigation of Uranium Mineralization along the Qavvik-Tatiggaq Trend, northeast Thelon Basin, Nunavut; SUPERVISOR: Dr. Bruno Lafrance
I am a geologist with over 12 years' experience in uranium exploration. The majority of my experience was managing Cameco Corporation's Turqavik-Aberdeen exploration project in the northeast Thelon Basin area from 2006 to 2014. Two new high-grade, unconformity-related uranium discoveries (Tatiggaq and Qavvik), as well as numerous zones of anomalous alteration and structural complexity were found during my tenure as Project Geologist. These mineralized zones and the poorly understood geological and structural framework of the Aberdeen Lake area became the basis of my current Ph.D. study.

Publications:
Hunter, R.C., Lafrance, B., Heaman, L.M., Zaluski, G., Thomas, D. (Accepted November, 2017). Geology, lithogeochemistry and new LA-ICP-MS U-Pb geochronology of the Aberdeen Lake area, Nunavut: new insights into the Neoarchean tectonic evolution of the central Rae Domain. Precambrian Research.